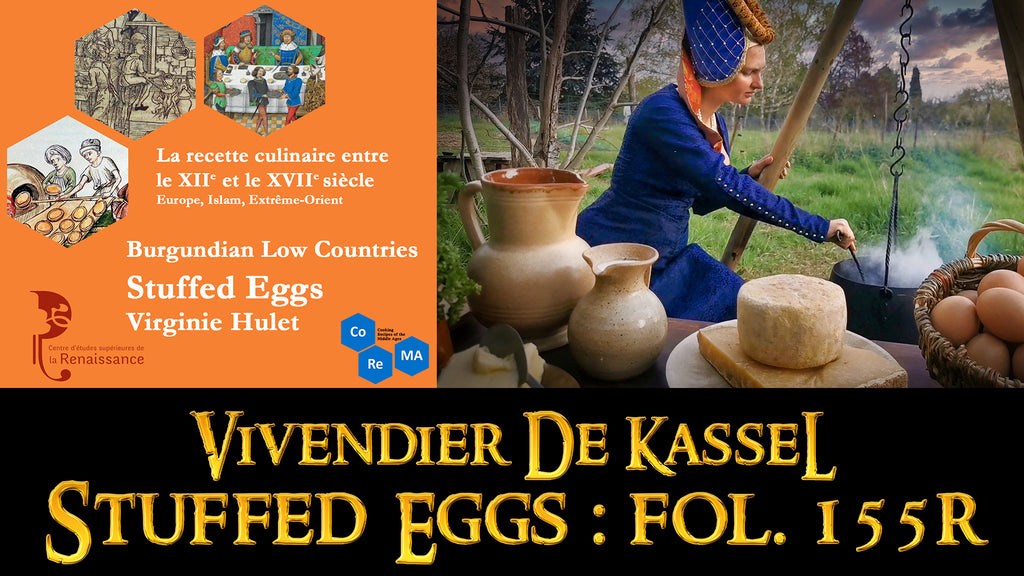 COOK WITH MYTHROJAN : Vivendier de Kassel STUFFED EGGS : Fol. 115r JOIN US ON COREMA INTERNATIONNAL HISTORICAL SYMPOSIUM ! :)
The recipe of Stuffed Eggs I would like to introduce you today to today comes from the Vivendier, which is a manuscript dated from 1426-1431 and probably from Tournai (the recipes are framed by the writings of a Tournai doctor, Jacques DESPARS and the binding plate is composed of a text in French and a text in Dutch).
Stuffed eggs were actually a popular recipe in XV century and today we will compare our Burgundian stuffed eggs with Italian and northern recipes of the same time period ! We will compare actually three different recipes of stuffed eggs. Each with a very different flavor :
- Sweet : Vivendier -- only recipe with sugar
- Acid : Liber de Coquina -- hard yolk + marjoram, saffron, clove, parmesan, raw egg - fry and sprinkle with verjuice
- Sweet and sour : Libellus -- hard yolk + sage, mint, pepper and saffron - fry in butter and drizzle with honey and vinegar
I hope you will love it !